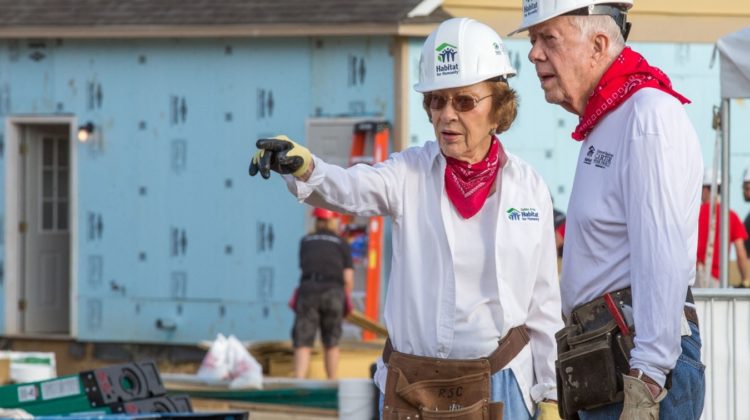 The purpose of the serious illness conversation is to offer patients a clear choice between treating and not treating an incurable disease like liver cancer. The goal is to give the person permission to alleviate pain and suffering. The individual might decide to be treated as a patient or honored as a person if given this option near the end of life.
A non-serious illness conversation ends with the patient wishing to deny fate and oblige suffering recommended by healthcare heroes. A serious illness conversation begins with the person accepting fate and resting in peace through the tender loving care of nonmedical humanitarians. 
Spiritual wisdom teaches us that serious illness is painful but suffering from it is optional. Spirituality guides the serious illness conversation.
The "non-serious" illness conversation amounts to nonsense and leads people to the agony of defeat when they die from an incurable illness. Such is the new normal for Jimmy Carter who was recently admitted to hospice after failing treatment for malignant melanoma. 
The dubious question of most politicians is: "What did he know and when did he know" malignant melanoma would end his life?
At age 90, Carter held a press conference and told the world that his cancer had spread. He believed he didn't have much time left and was surprisingly at ease, more so than his wife, Rosalynn.
Jimmy implied Rosalynn was not keen on having "this conversation" about not treating malignant melanoma because her salvation depended on Jimmy staying alive. Even with having a full life and being at peace, Jimmy decided to follow his doctors' recommendations (and not risk Rosalynn's scorn) to "extend his life as long as he can." 
A non-serious illness conversation takes place when people become emotional and closed-minded. A real serious illness happens when people are at ease and open-minded. Most people are cleared-headed during Medicare enrollment while considering their health coverage for the next year and the importance of an advance directive in case of an emergency or the unlikely discovery of a liver mass.
The Center for Medicare (CMS) reimburses medical providers to have serious illness conversations with seniors and also pays them to treat incurable diseases, creating a conflict of interest. CMS also determines hospice eligibility. The nonsense that supports non-serious illness conversations arises from a 90-year-old man being ineligible for hospice until a liver mass becomes a terminal condition. CMS is essentially telling seniors, "We're not having this conversation" until they fail treatment.
Medicare functions as the moral authority over healthcare decisions, situated between the medical authority that saves lives and the merciful authority that ends suffering. Medicare might surrender its authority and remain impartial by upholding the Patient Self-Determination Act of 1992 which grants seniors the right to make their own healthcare decisions.
Jimmy Carter might have chosen one of three advance directives eight years ago:
Medicare Directive A (Aggressive):  Defers to the medical authority who treats serious illness
Medicare Directive B (Benevolent):  Defers to the merciful authority who alleviates suffering
Medicare Directive C (Considerate): Defers to the moral authority of those who hold out hope
Having practiced emergency medicine for 30+ years, I'm often the first one to find a liver mass and assess who's positioned to have a real serious illness conversation. Both patients and family members are hard-pressed to know what they wish. Yet a husband readily declared that his 72-year-old wife, who suffered a brain bleed, did not wish medical resuscitation and opted for mercy. He was clearly positioned to make this life-or-death decision from her advance directive.
Dignitaries like Ariel Sharon, the Prime Minister of Israel and Carter's contemporary, suffered a similar brain bleed and lived in a coma for eight years. His caregivers held out hope to the bitter end! Physical pain and mental suffering are part of life, but not necessary at the end of life unless you're righteous – those who often give reverence to nonsense. Seemingly, they're compelled to go through hell to get to heaven.
Family caregivers, like Rosalynn who founded the Institute for Caregiving, know when emergency physicians are wrong or right. But trust medical authorities like oncologists who can do no wrong by doing everything medically necessary to save lives. Emergency physicians manage acute illness while palliative physicians manage advanced illness. Both are caught in the middle of do-or-die situations that family caregivers might dismiss because they're not ready to have serious illness conversations and make the final decision to show mercy over hold out hope.
In the "Game of Life," players arrive at Millionaire Acres and rest in peace. In real life, people might accept "game over " with the diagnosis of a serious illness and declare Millionaire Acres to be the Habitat for Humanity (mercy) or the Institute for Caregiving (morality). It seems obvious that Jimmy Carter would choose Habitat for Humanity over the Institute of Caregiving if a serious illness conversation took place at the appropriate time of Medicare enrollment.
A simple act of Congress to have seniors select Medicare Advance Directive A, B or C could have made a world of difference for Jimmy Carter. The choice to remain at ease at age 90 makes sense. Battling a terminal illness for eight years is nonsense. Improving end-of-life care begins with Congress passing the Medicare Advance Directive Act that builds upon the Patient Self-Determination Act.
The legacy of Jimmy Carter as a Nobel Peace Prize recipient and consummate humanitarian did not align with his end-of-life experience. By the Mercy of God, he might have passed on his own time rather than borrowed time lent by Medicare.
CMS can right the harm done to Jimmy Carter by initiating serious illness conversations with seniors during Medicare enrollment rather than ER visits. The importance of obtaining informed consent prior to doing harm is how we treat others with reverence near the end of life.